SUPER-PREMIUM FACIAL WIPES REFRESH AND NOURISH YOUR SKIN COMFORTABLY
PREMIUM FACE WIPES <Gold>
Gentle Mint Fragrance
42 sheets
GOLD*1 & COLLAGEN*2 FORMULATION
*1 gold (skin conditioning agent)
*2 soluble collagen (moisturizing agent)
・relax and refresh yourself with the soothing adult scent every time you wipe
・ultra-fine fiber wipes away sweat and odor flawlessly!
・enriched with collagen*1 to provide skin hydration and help keep the skin moist
*1 soluble collagen (moisturizing agent)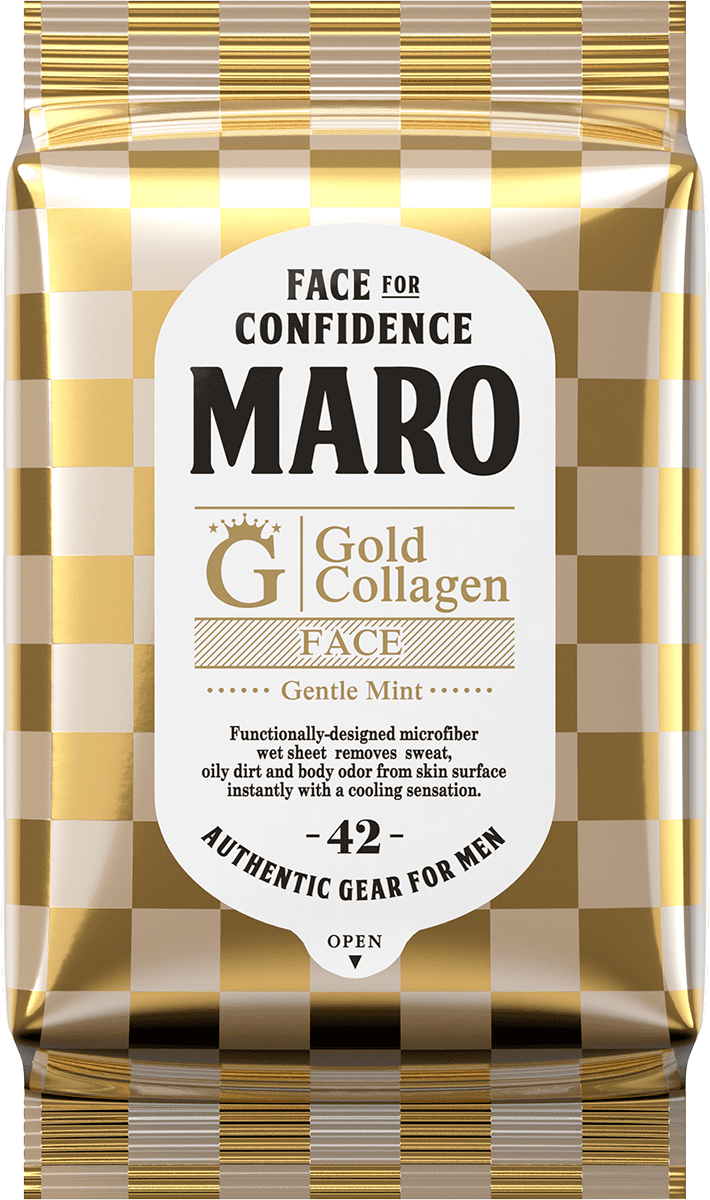 PREMIUM BODY WIPE FOR SUPREME COMFORT
MOISTURIZES AND RESTORES YOUR SKIN'S NATURAL SOFTNESS*1 WITH EVERY WIPE

Colloidal gold penetrates and delivers collagen deep into the horny layer. Packed with moisturizing royal jelly properties that plump and soften your skin.

*1 maintains personal hygiene by cleansing skin

SPECIALLY FORMULATED FRAGRANCE

The uplifting, long-lasting scent will awaken your senses and leave you fully refreshed.

ORIGINALLY DESIGNED NONWOVEN FABRIC

Microfiber sheets wipe away sweat and oil to prevent skin feeling greasy and looking shiny.

PREMIUM FORMULATIONS FOR REAL MEN

・Soluble collagen works as a moisturizer to make skin smoother and softer
・Long-lasting menthol formula delivers a moderate cooling and soothing sensation
・Fine powder absorbs grease to prevent shine-prone skin

HIGH MOISTURE RETENTION POWER

Ensures each wipe to stay fresh and moist from the first to the last wipe. Made with abundant skin-hydrating and nourishing ingredients, enough to cleanse all over your face and neck.